Bluestacks is an emulator for android and is designed for using mobile applications on Windows operating systems. It acts like a bridge of Android Operating System between Windows and users. Mac users can also install it on their PC's.
Bluestacks provides an interface for android games and applications to easily run on computers. Below we will tell you about how you can install and use mobile applications using Bluestacks.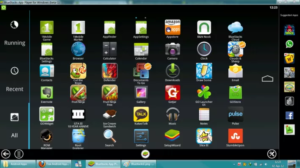 Source: Bluestacks
Bluestacks installation Method:
Install Bluestacks from the website. It is available for both Windows and Mac.
Make sure to check the option "App store access", while installing Bluestaks. After installation it may takes some time to start for the 1st At least 2 GB of RAM is required to run the apps well.
Search for your required app using BlueStacks search tool placed at the top of screen by typing app name in it. In case "no results" message appears due to app not present in bluestacks server, you can open it on Google play store by clicking on "Search Play for AppName".
If you have chosen play store, then you will need to log in with your Google account and enable the store.
A list of search results will appear. Click on the app you want to install.
Click on the install button. The download and installation process will start.
After the completion of installation process. Open it from main menu and enjoy.